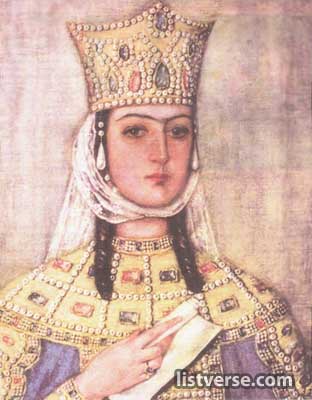 QUEEN TAMAR OF GEORGIA [RUSSIA] WHO DEFEATED 'MUSLIM' ARMIES, JUST ONE OF TEN FIERCE FEMALE WARRIORS
SEE THE OTHERS:
http://listverse.com/2008/03/17/top-10-badass-female-warriors/
THINK IT'S TIME WE WOMEN--BEGIN TO ACT, DIPLOMACY HAS FAILED
on another note, BRILLIANT REVEALING OF MISOGYNY AND BUDDHISM--FROM TWISTY'S BLOG
SO NEEDED TO READ THIS, THANK YOU TWISTY
http://blog.iblamethepatriarchy.com/2011/06/26/buddhism-sounds-familiar/
ALSO, ERRORS [PROVEN] IN BIBLE, UH, SOME INTERESTING FACTS HERE...ESPECIALLY REGARDING THE 'NO MENTIONING ANYWHERE IN HISTORY' OF ESTHER--AND THAT'S ONE HISTORY THEY DO HAVE RECORDS OF...SO THE STORY IS A FABLE,
SO IF THAT ONE IS FABLE, HOW MANY MORE ARE 'FABLES'? BEGS TO BE EXAMINED
http://www.americanhumanist.org/who_we_are/about_humanism/Some_Reasons_Why_Humanists_Reject_the_Bible
AND THEN, GOOD DISCOURSE ON THIS VERY ISSUE
http://www.abovetopsecret.com/forum/thread304553/pg1
I CAN'T HELP BUT THINK, THE BLATANT IGNORANCE OF HISTORY AND ABILITY TO 'REASON CRITICALLY' BY MOST CHRISTIAN RESPONDERS HERE, HAS MORE TO DO WITH
CLASS AND EDUCATION LEVELS, NOW CONSIDERING THAT IN DAYS OF OLD, ONLY THE 'ELITES' WERE ALLOWED TO READ/LEARN, AND THE MASSES WERE FORCED TO BE SLAVES/SEX SLAVES AND FODDER FOR THE WAR MACHINE--AND FORCED TO BE ILLITERATE [LIKE WOMEN GLOBALLY TODAY IN THEOCRATIC COUNTRIES],
IT BEGS FOR SERIOUS INQUIRY.
IT'S ALMOST AS IF--MYTHS 'MY T H OR MY T h WHICH IS KIND OF LIKE, MY T h as in h looks like a THRONE--
were forced down the throats of common slaves by the powers to be, of course, those POWERS TO BE,
ALL FORCED THOSE SLAVES TO MINE FOR JEWELS,
JEWELS BELIEVED THEN [AND STILL TODAY] TO BE POWERS OF SORCERY...OR GOD LIKENESS OR WHAT HAVE YOU...JEWELS LINED IN THE CROWNS OF KINGS
WORLD OVER
even in Revelations, HEAVEN IS A PLACE OF 'JEWELS' WHERE 'SONS' MEANING 'MEN' RULE/LIVE [no mention of women Anywhere in this jewel heaven, gee go figure, look at the mining and butchering of empires by ROME FOR GUESS WHAT--
JEWELS
AND EGYPT WAS THEIR FOOD SOURCE--TRADE
interesting history there...
things that make INQUIRING MINDS, WHO WANT 'TRUTH' AND NOT FABLES THAT HAVE BUTCHERED WOMEN THROUGH OUT TIME, WANT TO KNOW
dare we ask?
dirty gold--still strong today, lined up in banks and btw, USED IN SPACE TECHNOLOGY.
coincidence?
forget follow the money trail, how about FOLLOW THE JEWEL TRAIL [BTW DID YA KNOW RUBIES, ARE MINED WITH BLOOD--FORCED SEX SLAVES FOR RUBIES TODAY AND HAS BEEN--OH YEA, THAT AIN'T THE FULL OF IT EITHER]
YEP, FOLLOW THE JEWEL TRAIL, IT'S INTERESTING, THAT ONE--FOR MINING [ALSO MINERALS]
AND IN EVERY CASE--SLAVES AND MASS RAPES, IN EACH CASE
AND SEX SLAVERY
YEP, FOR DE 'powers who hold the jewels'
Jane
JANE